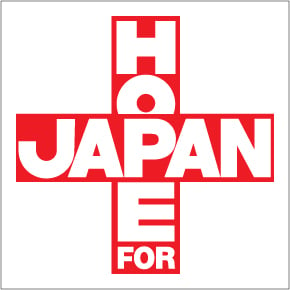 $

5.00
Hope For Japan 4x4 Sticker
Show your support for Japan with this "Hope For Japan" sticker! All proceeds go to American Red Cross Japan Earthquake and tsunami relief fund, to assist in aid for Japan in light of the March 2011 Earthquake. Our goal is to sell 300 stickers and raise $1500 for the cause.
About "Hope For Japan"
Hope For Japan sticker is designed by Sachie Kohlman, Japanese native currently lives in the US.

"I am from Japan and all my family lives there. As the days go by the situation in Japan is getting worse and worse. I just couldn't stay still, I wanted to do something to help Japanese people".

Kohlman is also a freelance Graphic designer and a blogger. Please watch WCAX coverage about her efforts to raise money at Matsuri event at St Michaels's college.
Sticker sponsored by: Build A Sign
Sachie's Blog: My Himalayan Cat Goma

UPDATE 03.24.10 The American Red Cross name is used with its permission, which in no way constitutes an endorsement, express or implied, of any product, service, company, individual or political position.
-------------------------------------------
Hope For Japan stickers are printed on high quality materials with some of the most advanced printing equipment available.
Water Resistant
They are waterproof! approved in any weather conditions. Great as bumper sticker or on your snowboard!
Sun Resistant
The color is UV resistant, it will not fade from direct sun light.
Removable
It is easily removable with out rleaving nasty residue behind.